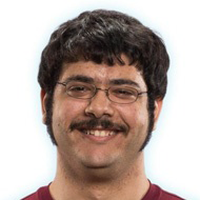 ixmike88
Michael Ghannam, 28 years USA
3
Gold in tournaments:
WESG 2018. USA Finals
ProDotA Cup Americas #8
ProdotA Cup Americas #4
2
Silver in tournaments:
KOD League Season IV
ProDotA Cup Americas #7
1
Bronze in tournaments:
Dotapit Minor Open Qualifiers NA

Total matches: 310
ixmike88 is a professional Dota 2 player. He became fond of the game back in the DotA Allstars times and eventually turned pro. Meeting FLUFFNSTUFF was crucial for Michael's career. Playing with Brian, Michael gradually became a professional player improving his level of play. The friends transitioned to Dota2 by creating the stack FIRE. Their performance made them stand out in the North American region. In February 2012 they were signed by compLexity. Playing for the above-mentioned organisation, the squad received an invitation to TI2. However, they placed 9th - 12th there. By December 2012 the organisation made a decision to close down the Dota 2 division. Nevertheless, the friends did not give up. The line-up was signed by Team Liquid and represented the organisation at TI3. They outperformed LGD in an elimination match knocking out the Chinese opponents to the losers bracket. Even though the squad placed 7th - 8th, ixmike together with his teammates became heroes in the eyes of the North American fans; charismatic Michael remained in Russian community's memory, thus becoming one of the most popular players from the USA. Michael's success did not stop him from going inactive. The player returned to the scene only in April 2014 when he joined Sneaky Nyx Assassins. Nevertheless, the level of play of the new team and the stacks that he joined later was low. ixmike88 failed to regain his old shape missing every Major event in the 2015-16 season. ixmike88 plays Offlane. His signature heroes are Clockwekr, Batrider and Abaddon.
Participation in teams
Team

Winners Draws Losers
Awards
Place

Tournament

Prize

Prize fund