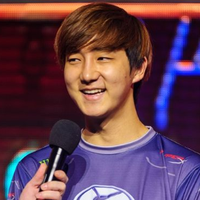 Jaedong
Lee Jae Dong, 29 years South Korea
4
Gold in tournaments:
World E-sport Championships 2014
Lone Star Clash 3
Numericable M-House Cup 3
ASUS ROG NorthCon 2013
3
Bronze in tournaments:
IEM Season IX - San Jose
IEM Season IX - Schenzen
DreamHack Bucharest 2014
Total matches: 151
The origin of the legendary StarCraft: Brood War and StarCraft II player's nickname is quite obvious if you look at his name. His importance to the game's evolution is also obvious. A record-breaker, winner of many high caliber tournaments, dominant individual (Jae was the best Korean Zerg in KeSPA for 42 months) — this is who "The Tyrant" Jaedong is. He earned over a billion KRW (approximately 1 million dollars) over his career with major part of his income being enormous salary and sponsorships: Jae has always been insanely popular with the fans. He is one of the four Golden Mouse holders which are awarded for three OSL (the main StarCraft tournament) victories. Jaedong switched to StarCraft II with the intent to become the undefeated champion once again. Despite always being in the spotlight, Jaedong never reached the same height in StarCraft II he had reached in StarCraft: Brood War. He joined Evil Geniuses in December 2012 and solidified his status of one of the most popular and highly paid professional gamers, but it didn't earn any major trophies. Moreover, Jae lost five major finals in a row on the way to his first StarCraft II trophy, ASUS ROG! Still, in spite of not completely living up to the audience's expectations, the importance and charisma of this Korean in modern StarCraft is impossible to overestimate.
Participation in teams
Team

Winners Draws Losers
Awards
Place

Tournament

Prize

Prize fund
See also