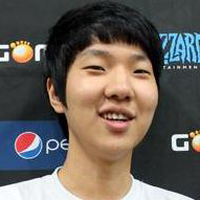 jjakji
Jung Ji Hoon, 25 years South Korea
4
Gold in tournaments:
ZOTAC Cup Season 2 Finals
Go4SC2 Monthly Final December 2013
ZOTAC Monthly Final November 2013
RaidCall ESL Euro Series Winter 2013
3
Silver in tournaments:
Proleague 2016
2014 DreamHack Open: Moscow
Vasacast Invitational 2014
3
Bronze in tournaments:
ZOTAC StarCraft 2 Season #1 Final 2014
WCS 2014 Season 1 Europe
HomeStory Cup VIII
Total matches: 234
jjakji was first talked about at the end of 2011 when he reached GSL CodeA. Two seasons later jjakji became champion of GSL CodeS. He was the leader and captain of New Star HoSeo for several years. jjakji can be considered an elite player. Why is that? Well, he wone GSL CodeS in the autumn of 2011. It was a sensational season when all favourites were losing matches against who seemed to be harmless opponents, and dark horses like jjakji crushed everyone and everything. In the finals jjakji outsmarted the Zerg player Leenock and became the youngest GSL champion at the time, earning $45000. What was next? Alas. like some of the other GSL champions, jjakji declined rapidly after the victory. He didn't become mediocre like, for example, Seed and Sniper, but still slipped under the radar. This guy needed a major push to get noticed again. And he got pushed by his team, NSHoSeo, which disbanded. jjakji, who was playing for the team since forever, had to prove to himself and to the world that he was still a good player worth being invited to the best teams. The GSL champion found a new home very quickly. He accepted an invitation from mYinsanity and began training on the European server. In a few months he made his team happy by taking 3rd place at HomeStory Cup VIII and by 2013 he had been back in shape. jjakji is a very dangerous opponent for a non-Korean player, considering his powerful macro and the ability to properly prepare for an important match.
Participation in teams
Team

Winners Draws Losers
Awards
Place

Tournament

Prize

Prize fund
See also