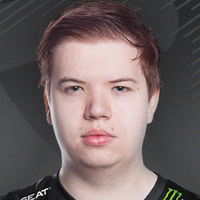 JW
Also known as: JWonderchild
Jesper Wecksell, 24 years Sweden
30
Gold in tournaments:
PLG Grand Slam 2018
WESG 2017 CS:GO
IEM Season XII — World Championship
European Minor Championship 2017 — Atlanta
Intel Extreme Masters Katowice 2016 CS:GO
Aftonbladet Fight Night #3
ESL Expo Barcelona
SL i-League 2015 CS:GO
Fragbite Masters 5 CS:GO
ESL ESEA Pro League Season 2
Fragbite Masters Champions Showdown
FACEIT League 2015 Stage 3
ESL One Cologne 2015
DreamHack Summer 2015 CS:GO
Aftonbladet Fight Night #2
Gfinity Masters #2
ESL ESEA Pro League
DreamHack Tours 2015
King of Majors
FPL Challenge
IOS Pantamera
ESL One Katowice 2015
ESEA Invite Season 17 Global Finals
ESWC 2014
Fragbite Masters 3 CS:GO
FACEIT League 2
Eizo Challenge
SLTV StarSeries X CS:GO
ESPORTSM
DreamHack Winter 2013 CS:GO
13
Silver in tournaments:
StarSeries & i-League CS:GO Season 7
DreamHack Summer 2017
EPICENTER: Moscow. EU Qualifier
ELEAGUE Season 1
Gfinity Champion of Champions
Fragbite Masters 4 CS:GO
ESEA Season 18 Finals
PGL CS:GO Championship Series
Game Show CS:GO League Season 2
Hitbox Arena Championship 2
ESL One Cologne 2014
Hitbox Arena Championship
MSI Beat it! 2013 Grand Finals
8
Bronze in tournaments:
iBUYPOWER Masters IV
DreamHack Masters Marseille 2018
Esports Championship Series Season 4
ESL Pro League Season 6
DreamHack Winter 2016. CS:GO
PGL Season 1
FACEIT League 2015
Gfinity 3

Total matches: 940
JW is a professional Counter-Strike: Global Offensive player who has played the Counter-Strike 1.6 before. Jesper gained his popularity at the european scene in 2012 after release of the Counter-Strike: Global Offensive where young player had showed good results just right from the start. Since August he plays as the main AWPer for team Fnatic. During three years (since 2013) he regularly gets into the best top ten players according to the website hltv.org.
Participation in teams
Team

Winners Draws Losers
Awards
Place

Tournament

Prize

Prize fund
See also