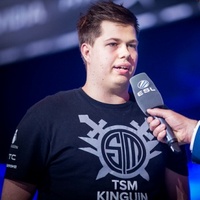 karrigan
Also known as: karrigaNaStYa, FiNNiGAN, FiNNiGANastya
Finn Andersen, 29 years Denmark
19
Gold in tournaments:
EPICENTER 2018
ESL One Belo Horizonte 2018
Intel Extreme Masters XIII — Sydney
Esports Championship Series Season 4
ESL One New York 2017
ELEAGUE CS:GO Premier 2017
SL i-League StarSeries Season 3
Red Dot Invitational
PGL Season 1
FACEIT League 2015
Alienware Area51 Cup Season 2
Counter Pit League Season 1
Fragbite Masters 4 CS:GO
PGL CS:GO Championship Series
Game Show CS:GO League Season 2
99Damage Masters 1
FACEIT League 2015
99Damage Arena #2
GamersImpact Charity Drive
16
Silver in tournaments:
IEM Season XII — World Championship
ELEAGUE Major 2018
ESL Pro League Season 6
Intel Extreme Masters Season XII Oakland
Esports Championship Series Season 3
Intel Extreme Masters XII — Sydney
IEM Season XI — World Championship. CS:GO
Counter Pit League Season 2 - Finals
Aftonbladet Fight Night #3
ESL Expo Barcelona
IEM San Jose 2015
ESL ESEA Pro League Dubai Invitational
Fragbite Masters Champions Showdown
DreamHack Open London 2015
IEM Gamescom 2015
Copenhagen Games 2015
17
Bronze in tournaments:
Esports Championship Series Season 7. Europe — 2 series
Americas Minor Championship — Katowice 2019
Intel Extreme Masters XIII Chicago
ESL One Cologne 2018
Esports Championship Series Season 5. LAN-finals
ESL Pro League Season 7. Finals
BLAST Pro Series Copenhagen 2017
Intel Extreme Masters Season XI Oakland
Power-LAN 2016
DreamHack Summer 2016
Intel Extreme Masters Katowice 2016 CS:GO
Global eSports Cup - Season 1
DreamHack Leipzig 2016
ESL ESEA Pro League Season 2
SLTV StarSeries XII CS:GO
MLG X Games

Total matches: 865
karrigan is one of the best Danish representatives in Counter-Strike 1.6 from the last generation of players. He used to be a member of the famous team Spirit of Amiga which is better-known by its abbreviation — SoA. He also played for local Danish stacks including wooSai. At the end of 2010 he joined the German team mousesports where he played side by side with Tixo, Kapio and other legendary players from the German scene. At the beginning of 2012 he joined Fnatic. His run with Fnatic was the best in the Danish player's career. That Fnatic roster used to dominate the scene at the end of CS 1.6 era and was noticeable for its aggressive playstyle. After his transition to CS:GO Finn hadn't been able to reach the top of the European and international scene for a long time, playing for such teams as Reason Gaming, n!faculty and Fnatic. At the beginning of 2014 he was offered to join Team Dignitas where he replaced FeTiSh as the captain and helped them become world's top-5 team. Since then he has been playing with device, dupreeh, Xyp9x, cajunb with whom he has a strong friendship. At the start of 2016 Finn and his former TSM teammates found sponsors and created a new organisation called Astralis. He is the in-game leader and often the primary sniper for his team.
Participation in teams
Team

Winners Draws Losers
Awards
Place

Tournament

Prize

Prize fund
See also