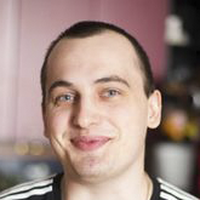 Kas
Mihaylo Haida, 31 years Ukraine
3
Gold in tournaments:
EU8 There's More
StarCraft 2: HOTS Regular Cup #75
ZOTAC #182
2
Silver in tournaments:
StarLine 1xBet League Season 2
StarCraft 2: HOTS Regular Cup #74
2
Bronze in tournaments:
GG of the Year 2016
NationWars
Total matches: 165
Mykhailo Gaida was a strong WarCraft II player. After switching to StarCraft II Kas would train hard to become a top-tier player. By 2011 he reached level of Strelok, White-Ra, Dimaga, the era's best Ukrainian players. Over a few years Kas won dozens of online tournaments and some notable events, such as Copenhagen Games Spring 2012, Ritmix Russian StarCraft II League and TwitchTV European Invitational. In 2011 and 2012 he placed third at four world-class events: TSL3, ASUS Rog The GD Invitational, WCG 2011, IEM Season VI Kiev.
Participation in teams
Team

Winners Draws Losers
Awards
Place

Tournament

Prize

Prize fund
See also