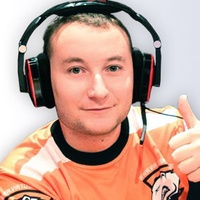 KoreetZ
Andrey Kasparov, 34 years Moldova
3
Gold in tournaments:
WGL EU Gold Series Season 7
EU Gold Series 2015 Season 6
WoT Pro League Season 3
4
Silver in tournaments:
Continental Rumble
Rumble in the West
EU Gold Series 2014 Season 1
Wargaming.net League Grand Final
3
Bronze in tournaments:
Wargaming.net League 2016 Grand Final
EU Gold Series 2014 Season 5
Go4WoT Finals: December

Team player
Wombats on Tanks
Total matches: 106
He is one of the most talented World of Tanks captains. He made his first appearance in the pro scene with New Star. Together with the team he started from AmSeries and made it all the way to StarSeries, and they won the second place prize in the first season of WGL. koreetz moved to Wombat on Tanks in 2013 where he became the team captain. He is the second place prize winner of the Wargaming.net League Grand Final 2014 and also the winner of most of the WoT Pro League seasons.
Awards
Place

Tournament

Prize

Prize fund
See also