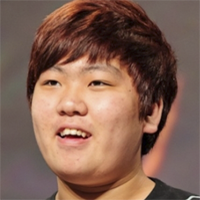 Leenock
Lee Dong Nyoung, 24 years South Korea
2
Silver in tournaments:
Proleague 2016
Dragon Invitational Tournament #3
1
Bronze in tournaments:
DreamHack Valencia 2014 SC2
Total matches: 205
Despite being so young, Leenock became one of the most noticeable Zerg players in the developing Korean StarCraft II scene in 2010. A fifteen-year-old boy was considered to be one of the most promising Asian players because he demonstrated an unusually mature and solid playstyle. One of Leenock's achievements is participating in the very first and very last StarCraft II: Wings of Liberty GSL CodeS season along with MarineKing, MVP, MC and NesTea!. However, Leenock's career wasn't easy. He spent months or sometimes years waiting for his best game, not showing good results in large tournaments, but he reclaimed his title of one of the best Korean Zerg players everytime by becoming the youngest (before another Zerg player, Life, made it to the finals) GSL finalist, two-times MLG winner, IPL, DreamHack Stockholm and a couple of smaller events victor. He spent most of his career with fOu-FXOpen before their disband. Then he joined Yoe Flash Wolves and his old rivals Prime. Non-Korean fans probably remember both his playstyle and his image: a plump guy with an agressive playstyle who danced Gangnam Style after a victory once. Is there anything funnier?
Participation in teams
Team

Winners Draws Losers
Awards
Place

Tournament

Prize

Prize fund