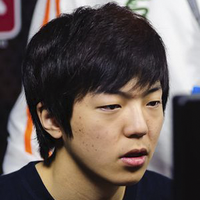 Life
22 years South Korea
6
Gold in tournaments:
IEM Season IX - Taipei SC2
2015 Global StarCraft II League Season 1
CaseKing X-Mas Cup
2014 WCS Global Finals
The Big One
DreamHack Bucharest 2014
5
Silver in tournaments:
2015 World Championship Series Global Finals
2014 DreamHack Open: Winter
Dragon Invitational Tournament #2
JoyGear Cup
DreamHack Winter SC2 2013
2
Bronze in tournaments:
IEM Season IX - Toronto
ASUS ROG NorthCon 2013
Total matches: 180
Life is a popular professional gamer from South Korea. He started playing on the international level competitively in 2012, becoming one of the most successful Zerg players of the year. His achievements include victories in the GSL CodeS, MLG and Blizzard Cup. If the person who created the Zergs was asked to choose the player that conforms the principles of the race the most, they would say it was Life without any hesitation. This Korean guy with an extremely simple and unpretentious nickname plays absolutely differently from the other Zerg players who sometimes forget that they have an opportunity to build units before the first threat from an opponent comes. Life is very fond of agressive strategies. He is focused from the very first seconds of the game and tries to get a match under control immediately. He really likes to attack and often does it in various directions at the same time. Only a few StarCraft II players in the world can handle this pressure when Life is in shape. Having debuted in online tournaments at the age of 14, Life became the third youngest player in the StarCraft II TV matches. He made his first appearance in a StarCraft II TV match 11 days after he had turned 15. Turning 16, he had already been the youngest GSL champion: Life outperformed MVP, the GSL record-holder, in the finals in October 2012. Making more than $200,000 in StarCraft II, Life is certainly one of the wealthiest world's teenagers and one of the best Zerg players in the history of StarCraft II. At the beginning of 2015 Life joined KT Rolster which he still plays for.
Participation in teams
Team

Winners Draws Losers
Awards
Place

Tournament

Prize

Prize fund
See also