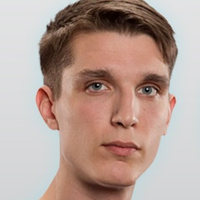 Mag
Also known as: M, Mag~, Magus
Andrey Chipenko, 29 years Ukraine
15
Gold in tournaments:
The Perfect World Masters. Open Qualifier CIS
Royal Arena #2
ESL One New York 2015
Mountain Trail Challenge
Yard G2A Fest Ep.1
Battle of Central Europe 3
GSL QIWI Dota2
YardRed Festival
Excellent Moscow Cup #2
Dota 2 Champions League Season 3
TECHLABS CUP RU 2014
Excellent Moscow Cup
EIZO Cup #11
CIS Carnage 2014
17
Silver in tournaments:
PGL Open Bucharest. CIS Open Qualifier
WellPlay Invitational #7
FACEIT Invitational
World Cyber Arena 2016 Dota 2 Season 2. Main Qualifier
Global Grand Masters
NoShang Invitational
WePlay Dota2 League Season 3
Captains Draft 3.0
SLTV StarSeries XI LAN Finals
HyperX D2L Season 5
Dota Pit League Season 2
SLTV StarSeries IX Finals
Gfinity Dota 2 Cup
MLG T.K.O.
ESP Shock Therapy Cup
TECHLABS CUP 2013 Dota 2 GRAND FINAL
EIZO Cup #9
8
Bronze in tournaments:
ESL One Frankfurt 2016
BTS Europe #1
Esportal Dota 2 League
SLTV StarSeries X LAN Finals
Dota 2 Champions League Season 4
Game Show Dota 2 League Season One
ASUS ROG DreamLeague Season 1
Dota 2 Champions League Season 2
Total matches: 771
Mag~ is a ukranian Dota 2 player. Mostly he plays in offlane position. Andrey is one of veterans of CIS Dota scene who has started his career in the end of 2010 by joining Natus Vincere. In April 2011 had to leave his team. Mag's comeback followed in Spring of 2012 where he joined Darer. Unfortunately at TI2 he didn't get any proper results and the next season wasn't stabile either. Andrey changed a number of CIS teams and none of them didn't last long. He showed better results at iCCup where he was playing for seven months. Here the famous trio Mag~, ALWAYSWANNAFLY, Resolut1on was made up who previously played for different teams but then formed Team Empire on September 2013. In October 2014 Mag left a popular roster. For some time Andrey played for Virtus.pro Polar as a standin and in December 2014 became a full member of a team. After leaving roster in March 2015 Mag had been a free agent and managed to get to TI5 playing for team Vega Squadron. Though the tournament wasn't a successful one but at the next season the 'shark roster' won ESL One New York 2015. It's worth to mention that at the beginning of a career Andrey had a nickname "Magus" but then shortened it to Mag~ for reason to avoid an association with Magnus. His signature heroes are Broodmother, Centaur Warrunner и Clockwerk.
Participation in teams
Team

Winners Draws Losers
Awards
Place

Tournament

Prize

Prize fund
See also