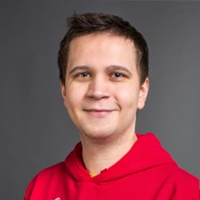 markeloff
Egor Markelov, 31 years Ukraine
5
Gold in tournaments:
WESG 2017 Europe Finals
DreamHack Leipzig 2017
GameAgents Season 2
CIS Championship
TECHLABS CUP 2013 CS:GO GRAND FINAL
6
Silver in tournaments:
ESEA Season 25: Global Challenge
Adrenaline Cyber League. LAN finals
Acer Predator Masters Season 2
G2A.com December Cup Powered by FACEIT Europe
Game Show CS:GO League Season One
GSL Cup
6
Bronze in tournaments:
Adrenaline Cyber League 2017
Binary Dragons csgopolygon - Season 1
ESWC 2015
DreamHack Valencia 2014 CS:GO
SLTV StarSeries X CS:GO
E-sport-bets 3rd Anniversary Сup

Team player
FlipSid3 Tactics
Total matches: 639
markeloff's professional career started with Counter-Strike 1.6. He is well-known for his time with the Ukrainian team Natus Vincere with whom he played since 2009 till 2013. He won a lot of awards in various tournaments with the team. In 2012 the roster moved on to Counter-Strike: Global Offensive like many other players in the world. Before his Na`Vi times Egor played CS 1.6 for such teams as Amazing Gaming, DTS Gaming, Arbalet UA and HellRaisers. After his transition to CS:GO Egor played for Na`Vi for about nine months, then left the team and joined Astana Dragons. He spent half a year with AD, then the roster left the organisation. The former AD roster spent about three months with no sponsor to back them up, and in March they were signed by HellRaisers where the line-up changed. Egor also left the roster in January 2015 and joined dAT Team. In half a month they became part of Flipsid3 Tactics.
Participation in teams
Team

Winners Draws Losers
Awards
Place

Tournament

Prize

Prize fund
See also