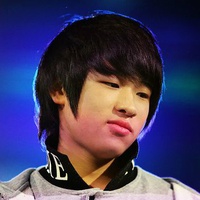 Maru
22 years South Korea
8
Gold in tournaments:
2019 Global StarCraft II League Season 1: Code S
2018 Global StarCraft II League Season 3: Code S
2018 Global StarCraft II League Season 2: Code S
NationWars IV
Proleague 2016
2015 StarCraft II StarLeague Season 1
4
Silver in tournaments:
WESG 2016 StarCraft 2
WESG 2016. Asia-Pacific LAN Qualifier
IEM Season IX - Taipei SC2
Proleague 2015
5
Bronze in tournaments:
World Electronic Sports Games 2018
GSL vs. the World 2018
IEM Season XII — World Championship
2017 Global StarCraft II League Season 2. Code S
Global StarCraft II League Season 2

Team player
Jin Air Green Wings
Total matches: 309
Maru is a Koream terran who has picked his nickname in honor of the famous cat. He is the owner of one of the interesting records in the history of the main StarCraft II tournament GSL. Maru had played his debut at the first season of that league in television match when he was 13. That was even more significant achievement than with the same record by BaBy in StarCaraft: Brood War. It's interesting that this match has ended with victory of a young StarCraft player who will become Cella's coach. As always, after such victory Maru had risen to fame overnight and the bright future in eSports awaited for him. During three months Maru slowly and surely was progressing and in the second part 2013 had turned into a steady professional gamer CodeS and won OSL in summer 2013. After victory he was considered as the best terran player in the world showing good results both in group and solo tournaments. In the 13th of 2013 Maru became a member of team JinAir GreenWings leaving team Prime that had him led to eSports. 16 years old talent had turned inro the leader of the team and most effective player of Proleague. It goes without saying that he together with Life are the most successful young players in the history of StarCraft II: Wings of Liberty and Heart of the Swarm. They both serve as an example to all young players who desire to get to cybersport.
Participation in teams
Team

Winners Draws Losers
Awards
Place

Tournament

Prize

Prize fund
See also