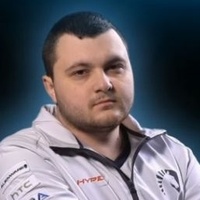 MinD_ContRoL
Also known as: MC, MindControl, Mind Control
Ivan Borislavov, 24 years Bulgaria
20
Gold in tournaments:
MDL Macau 2019
MegaFon Winter Clash
China Dota2 Supermajor
SL i-League Invitational Season 4
Midas Mode
AMD SAPPHIRE Dota PIT League Season 6
SL i-League Invitational Season 3
The International 2017
DreamLeague Season 7
EPICENTER: Moscow 2017
SL i-League Invitational #2
SL i-League StarSeries Season 3
ASUS ROG DreamLeague Season 6
EPICENTER: Moscow
BTS Europe #3
Dota 2 Champions League Season 6
Alienware Summer's End
The Defense 5
Hitbox Challenger by Razer
GIGABYTE Challenge #9
8
Silver in tournaments:
EPICENTER XL
ESL One Genting 2018
DreamLeague Season 8
DreamLeague Season 7 EU Division
BTS Europe #4
The Manila Major 2016
ESL One Manila 2016
The Shanghai Major 2016
6
Bronze in tournaments:
The Bucharest Major
ESL One Katowice 2018
ESL One Hamburg 2017
FACEIT Invitational
Yard G2A Fest Ep.1

Total matches: 484
MindControl is Bulgarian Dota 2 player. He had started his gaming career in team Vast Cast in February 2014. In April the roster signed a contract with Aftershock Gaming where Ivan played mid lane. The team had managed to show themselves in a row of small online tournaments but they couldn't rach any serious results. Soon the roster had lost their sponsor and the former players created a new team Basically Unknown. In May 2015 Ivan had left the team to try himself at the qualifications to TI5 with hehe uinited but failed. After the tournament he became a free agent and joined mix 5Jungz that on 9th of October in 2015 signed a contract with Team Liquid. MindControl during 2014-2015 period was one of the most highly sought stnadin. He could be seen in such teams as Oslik Gaming, Burden United and others.
Participation in teams
Team

Winners Draws Losers
Awards
Place

Tournament

Prize

Prize fund
See also