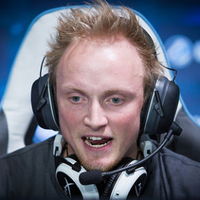 MISERY
Also known as: MiSeRy, moosery, MiSeRyTheSLAYER
Rasmus Filipsen, 28 years Denmark
14
Gold in tournaments:
GESC: Indonesia Minor
Midas Mode
ROG MASTERS 2017. USA Qualifier
DreamLeague Season 7. NA Division
ESL One Genting 2017
Dota 2 Canada Cup Season 7
The Shanghai Major 2016
MLG World Finals
Nanyang Championships
XMG Captains Draft 2.0
GIGABYTE Challenge #5
American Dota League Season 2
GIGABYTE Challenge #2
GIGABYTE Challenge #1
11
Silver in tournaments:
Red Bull Guardians
Galaxy Battles II
Dota PIT League Season 6: North America Qualifier
SL i-League Invitational Season 3. NA Main Qualifiers
PGL Open Bucharest 2017. North America Qualifier
DreamLeague Season 7
Galaxy Battles
The International 2016
The Frankfurt Major 2015
ESL One New York 2015
Dota Pit League Season 3
2
Bronze in tournaments:
2016 China Top. Dota 2
MarsTV Dota 2 League Spring

Total matches: 636
MiSeRy is one of the oldest Danish Dota 2 players. He started playing DotA Allstars in 2008. He played for several teams. The most famous one among them was Fnatic. At the end of 2010 he joined MYM, with whom he participated in The International, where they placed fourth. MiSeRy started the next season playing for EG but in the spring of 2012 joined CLG at first as a stand-in, later as a starter. After the failure at TI2, which was dominated by Chinese teams, MiSeRy became a part of LGD. The organisation created the international roster LGD.int and arranged a boot camp in China. Before The International MiSeRy played in China. LGD.int placed 9th - 12th in the tournament. In December 2013 MiSery had to leave the team and return to Europe due to visa issues. In February 2014 he joined the stack Pajkatt - Team Dog, which was signed by mousesports in May. Another attempt at The International failed: they placed 11th - 12th. For some time MiSeRy was a stand-in for Alliance but didn't find the synergy with the teammates. MiSeRy spent the last months of the season with Cloud9 and unexpectedly joined Team Secret in August 2015. Despite the good results and victory at The Shanghai Major 2016, Rasmus was kicked. He had to join Digital Chaos. MiSeRy traditionally plays Support, but he would play Offlane sometimes. His signature heroes are Lion, Rubick and Nix Assassin. Interesting fact: MiSeRy participated in every single The International tournament with different teams each time.
Participation in teams
Team

Winners Draws Losers
Awards
Place

Tournament

Prize

Prize fund
See also