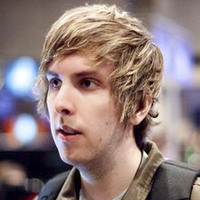 NaNiwa
Johan Lucchesi, 29 years Sweden
1
Gold in tournaments:
Svenska E-sportcupen 2013: Grand Finals
Total matches: 33
The Swedish player Johan Lucchesi is doubtlessly the most controversial figure in the non-Korean StarCraft II scene. Rude and scandalous but extremely talented, hard-working and intelligent — he was the best player in the non-Korean StarCraft II scene in 2013. There were a lot of incidents in his career, some of which are embarrassing to mention: he would leave a game without saying 'gg' in a Korean tournament (which is as impolite as if you insulted your opponent during the game in the Western scene), use an absurd strategy (make starting workers attack) in a game, which is indecisive for him, showing his contempt for viewers and organisers, or offend other professional gamers in public. Throughout his career Johan has played for a dozen of teams, earned more than $150,000 and made it to the GSL quarterfinals, having repeated Chris "HuK" Loranger's achievement and being one step behind Jonathan "Jinro" Walsh. In the interview given before Blizzcon 2013 NaNi said that he didn't think about how much money he had made or if he was the best non-Korean player in the history of StarCraft II.
Participation in teams
Team

Winners Draws Losers
Awards
Place

Tournament

Prize

Prize fund