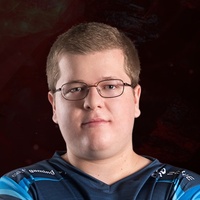 Nientonsoh
Also known as: Nientonsoh
Zachary Malhas, 25 years USA
3
Bronze in tournaments:
2015 NA Challenger Series
NA LCS 2014 Spring Season
IEM Season VIII Cologne Pro Tournament
Total matches: 84
Nientonsoh has been playing League of Legends competitively since 2012. His main role is Top, but he played mainly AD Carry and Mid until May 2013. In Season 3 he reached Challenger fast and was the first player to hit 1000 LP there. He used to be fond of HoN and World of Warcraft (where he hit top-1 in PvP playing Warlock several seasons in a row). He was invited as an analyst to the Season 3 World Championship.
Participation in teams
Team

Winners Draws Losers
Awards
Place

Tournament

Prize

Prize fund