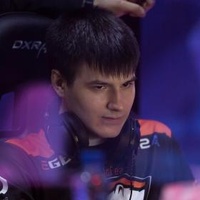 NoFear
Also known as: NoFearWP
Alexander Churochkin, 25 years Russia
8
Gold in tournaments:
SL i-League Invitational Season 3. CIS Open Qualifier
RofloTurik
WellPlay Invitational #8
ProDotA Cup Europe #16
Dota 2 Champions League Season 10
ProDotA Cup Europe #11
BTS Europe #2
DreamHack Moscow 2015
10
Silver in tournaments:
ProDotA Cup Europe #24
Blood in the Streets #1
ProDotA Cup Europe #18
Overpower Cup
ProDotA Cup Europe #13
Dota 2 Danger Cup
Dota 2 Champions League Season 8
PGL Dota 2 Pro-AM
Dota 2 Champions League Season 6
ASUS ROG DreamLeague Season 4
4
Bronze in tournaments:
EPICENTER XL
Royal Arena #1
BTS Europe #4
DreamLeague Season 5
Total matches: 493
NoFear is a professional Dota 2 player. For a long time he played for the little-known stack SoWhatYouCan, which he joined in April 2012. The team played at the semi-professional level and didn't attend a single serious event. In August 2013 Alexander left. In 2014 NoFear played for different stacks together with PGG and was a member of AlbumSheet. After a short break it was announced that Alexander was the new Support for Vega Squadron, but he got replaced by Solo in less than a month. At the beginning of the 2015-16 season NoFear joined newteam123123, Goblak's new stack. The stack didn't even endure until the qualifiers for The Frankfurt Major 2015: Goblak got disappointed in the team and left before the qualifiers. However, Alexander was noticed. Team Empire, who faced another roster crisis, invited him to play Support. That was NoFear's first professional team. Being a stand-in for a while, NoFear officially joined Team Empire on the 4th of October 2015. His achievements include the first place in Game Show Global eSports Cup Season 1, large event hosted in Moscow. NoFear would mainly play Offlane but switched to Support eventually. Having played the new role for several months, he returned to Offlane.
Participation in teams
Team

Winners Draws Losers
Awards
Place

Tournament

Prize

Prize fund
See also