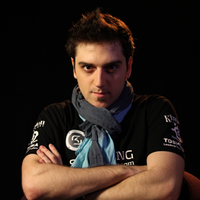 ocelote
Carlos Rodríguez Santiago, 29 years Spain
1
Silver in tournaments:
SCAN EUW Winter Invitational
Total matches: 32
ocelote has been playing League of Legends since the beta release and debuted in the professional scene in 2010. His main role is Mid, and he is well-known for his Cassiopeia play. He achieved the most in Season 3 with SK Gaming qualifying for the spring and summer splits of the EU LCS 2013. He was invited to join the analyst desk for the Season 3 World Championship. He used to be really toxic at the start of his career and even got banned by Riot Games. He significantly improved his behaviour in Season 3. He used to play World of Warcraft at the professional level. In 2009 ocelote made it to the Blizzcon 3x3 finals. He has a collection of 28 scarves, and you would never spot him without one in a LAN tournament.
Participation in teams
Team

Winners Draws Losers
Awards
Place

Tournament

Prize

Prize fund