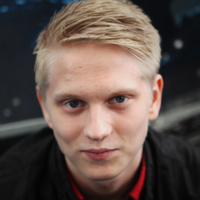 Pajkatt
Also known as: PieCat
Per Anders Olsson, 27 years Sweden
11
Gold in tournaments:
StarLadder ImbaTV Invitational Season 5
Midas Mode
ROG MASTERS 2017. USA Qualifier
Moonduck Studios Dota 2 Cup
Eizo Cup #12
Celebrity Deathmatch
Megafon Battle Arena
GIGABYTE Challenge #5
American Dota League Season 2
GIGABYTE Challenge #2
GIGABYTE Challenge #1
11
Silver in tournaments:
ESL One Birmingham 2018
ROG MASTERS 2017
Dota PIT League Season 6: North America Qualifier
SL i-League Invitational Season 3. NA Main Qualifiers
PGL Open Bucharest 2017. North America Qualifier
DreamHack Moscow 2015
ASUS Play It Cool
JoinDOTA MLG Pro League Season #2
joinDOTA Masters Season 15
NVIDIA Game24 DotA 2 Invitational
Dota 2 Champions League Season 4
2
Bronze in tournaments:
ASUS ROG DreamLeague Season 4
XMG Captains Draft 2.0
Total matches: 634
Pajkatt is an experienced Dota 2 player who has started his gaming career at DotA Allstars. He played for Online Kingdom, Evil Geniuses, Counter Logic Gaming, LGD Gaming.Int, mousesports,The Alliance and the others. Nowadays is a member of Mamas Boys. Pajkatt plays on mid lane or carry position. Pajkatt is the player who has done the first Rampage on the pro scene history. That happened in the International 2011 at the match OK.Nirvana vs Virtus Gaming when Pajkatt was playing as Sniper. His career at the Dota 2 competitive scene was thorny. He played for different teams but never managed to gain success. In mid-2015 he started to play in different mixes which always change their rosters and never win anything specific. Though Pajkatt plays at high level in any of those teams.
Participation in teams
Team

Winners Draws Losers
Awards
Place

Tournament

Prize

Prize fund
See also