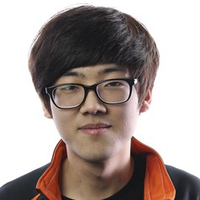 PartinG
Won Lee Sak, 25 years South Korea
4
Gold in tournaments:
DreamHack Tours 2015: StarCraft 2
Copenhagen Games 2015: StarCraft2
HomeStory Cup X
Red Bull Battle Grounds New York City
7
Silver in tournaments:
Master's Coliseum 4
NationWars III
DreamHack ROCCAT LotV Championship
2015 Global StarCraft II League Season 1
MSI Beat IT
GSL Global Championship 2014
Proleague 2014
2
Bronze in tournaments:
IEM Season IX - Taipei SC2
WCG SC2 2013
Team player
Kongdoo Monster
Total matches: 174
It goes without saying, if you ask for a StarCraft 2 professional player who is associated with one strategy you will hear PartinG's name and his famous Sentries and Immortals. From one point it sounds unfair towards a player who is the best player in the world in a match against terrans and also has gained his main victories in matches again protoss. From another point, it is PartinG who has shown to the whole world how effective can be Sentries and Immortals. With that tactic protoss have been defeating zergs tens of thousands times during for couple of years! PartinG says that his strategy is successful because he puts his heart into it (he gained 90% winrate in best times). That's why the Korean player's heart helped him to win $200000 during 2012-2013. For that period the player achieved following results: the champion title in Battle.NET World Championship 2012, World Cyber Games 2012, the winner of Red Bull Battle Grounds New York 2013, and became a finalist of GSL Blizzard Cup 2012 and took the third place in World Cyber Games 2013. That's not even the whole list! In the beginning of 2013 PartinG had benn playing for StarTaie during 2 years and then had received invitation from SK Telecom T1 and soon became their captain. Periodically PartinG gladdens his fans with his best strategy. Despite the fact that PartinC shows good results both in individual and team tournaments with usage of different tactic his name will always be associated with his strategy.
Participation in teams
Team

Winners Draws Losers
Awards
Place

Tournament

Prize

Prize fund
See also