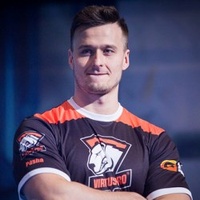 pashaBiceps
Also known as: paszaBiceps, pasha
Jarosław Jarząbkowski, 31 years Poland
20
Gold in tournaments:
ESEA Season 29: Premier Division — Europe
Adrenaline Cyber League 2017
DreamHack Masters Las Vegas 2017
DreamHack Bucharest 2016
Show Match: Virtus.pro vs Natus Vincere
ELEAGUE Season 1
SL i-League CS:GO Invitational
Azubu.tv CS:GO Show-Match
Crown Invitational
ESL ESEA Pro League Dubai Invitational
CEVO Professional Season 8
CEVO Professional Season 7
ESEA Season 18 Finals
Copenhagen Games 2015
Acer A-Split Invitational powered by Intel
Caseking King of Kings
Gfinity 3
ESL Pro Series Poland Season 8
FACEIT Spring League
EMS One Katowice 2014
15
Silver in tournaments:
CS:GO Asia Championships 2018
SL i-League Invitational Shanghai
EPICENTER 2017
The ELEAGUE Major 2017
EPICENTER: Moscow
ESL One New York 2016
PGL Season 1
E-sport-bets Celebration Show-match CS:GO
Gfinity Masters #2
King of Majors
ESEA Invite Season 17 Global Finals
E-sport-bets 3rd Anniversary Сup
Copenhagen Games 2014
TECHLABS CUP 2013 CS:GO GRAND FINAL
23
Bronze in tournaments:
Intel Extreme Masters Season XIII Shanghai
Adrenaline Cyber League 2018
PGL Major Kraków 2017
WESG 2016 CS:GO
WESG 2016. Europe LAN QUalifier
ESL One Cologne 2016
Counter Pit League Season 2 - Finals
Gfinity Champion of Champions
FACEIT League 2015 Stage 3
ESL One Cologne 2015
ESL ESEA Pro League
Counter Pit League Season 1
Gfinity Masters #1
ESL One Katowice 2015
FACEIT League 2015
ESWC 2014
DreamHack Winter 2014
Fragbite Masters 3 CS:GO
Hitbox Arena Championship 3
Game Show CS:GO League Season One
FACEIT League 2
ESEA Invite Europe Season 16
Fragbite Masters 2014
Total matches: 986
Jaroslaw started his eSports career during the Counter-Strike 1.6 era. Back then he was mainly playing for relatively unknown Polish team. In 2010 pasha joined the legendary "Golden Five", where he was to replace Luq. The "Golden Five" won a lot of tournaments, including WCG 2011 and IEM 6. He became the MVP of IEM 6. Despite facing financial difficulties and losing sponsorships, Pasha and his team continued to play together, naming the team AGAiN. After switching to CS:GO, Jaroslaw's team wasn't able to find its playstyle and was close to a complete disband. However, after making some roster changes, the team finally returned to the top, quickly restoring its fame as the "Golden Five". In January 2014 the "Golden Five" was signed by Virtus.pro. Jaroslaw is one of the most recognised players in the world. His streams gets up to 25,000 simultaneous viewers. Some of his fans donated tens of thousands of dollars to their favorite player. Pasha is informally considered to be the strongest CS:GO player on the scene. He created an internet movement of his own, TeamBiceps, after the fans adopted his new nickname pashaBiceps. His catch phrase, "my friend", became a legend of its own and is now constantly used by fans and pros alike. He's an incredibly kind and responsive man.
Participation in teams
Team

Winners Draws Losers
Awards
Place

Tournament

Prize

Prize fund
See also