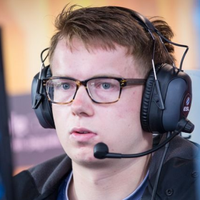 ppd
Also known as: Peterpandam, Peter.Dager, Peter, Franzzii
Peter Dager, 28 years USA
19
Gold in tournaments:
WePlay! Dota 2 Tug of War: Radiant
GG.Bet Dota 2 Invitational
StarLadder ImbaTV Invitational Season 5
Midas Mode
ROG MASTERS 2017. USA Qualifier
Captains Draft 3.0
The Summit 4
The International 2015
Dota Pit League Season 3
Dota 2 Asia Championships
SLTV StarSeries X LAN Finals
ASUS ROG DreamLeague Season 2
SLTV StarSeries X America
World E-sport Championships 2014
The Summit
D2L Western Challenge
Monster Energy Invitational
SLTV StarSeries America IX
ESP Shock Therapy Cup
16
Silver in tournaments:
WePlay! Valentine Madness
ESL One Birmingham 2018
ROG MASTERS 2017
Dota PIT League Season 6: North America Qualifier
SL i-League Invitational Season 3. NA Main Qualifiers
PGL Open Bucharest 2017. North America Qualifier
SL i-League 2015 Dota 2
MarsTV Dota 2 League Winter
Dota Pit League Season 4
MLG World Finals
ESL One Frankfurt 2015
The Summit 3
JoinDOTA MLG Pro League Season #1
ESL One New York
ESL One Frankfurt 2014
Netolic Pro League #5 West
11
Bronze in tournaments:
WePlay! Dota 2 Winter Madness
Autumn Brawl
The International 2016
The Shanghai Major 2016
WePlay Dota2 League Season 3
The Frankfurt Major 2015
HyperX D2L Season 5
Dota Pit League Season 2
NVIDIA Game24 DotA 2 Invitational
The International 2014
SLTV StarSeries IX Finals

Team player
Ninjas in Pyjamas
Total matches: 610
Peter "ppd" Dager is a professional Dota 2 player from the USA, currently playing for Evil Geniuses. Peter's eSports career started in Heroes of Newerth, where he became 2nd place winner at DreamHoN Winter 2012 and DreamHoN Summer 2013. In late 2013 he switched to Dota 2. After playing for a few relatively unknown teams ppd joined Super Strong Dinosaurs, where he played with such figures as ComeWithMe and Sneyking. Some time later he and zai joined Fear, Universe and Arteezy and formed a new team S A D B O Y S. On February 21, 2014 S A D B O Y S were signed by Evil Geniuses, and Peter became the captain of the team. It took him one year to transform EG into one of the strongest teams in North America and the world. It was ppd's genius that let EG win such tournaments as Monster Energy Invitational, The Summit 1, HyperX D2L Western Challenge, World E-sport Championships 2014, StarLadder Star Series Season 10, ASUS ROG DreamLeague Season 2 and many others. However, Peter's largest achievement to date is EG's first place at The International 5. Peter is oftenly criticized for his decisions - for instance, his decision to kick Aui_2000 from EG immediately after TI5 led to great community outrage. However, he's still considered one of the best captains and drafters in professional Dota 2. His signature heroes are Treant Protector, Crystal Maiden and Vengeful Spirit.
Participation in teams
Team

Winners Draws Losers
Awards
Place

Tournament

Prize

Prize fund
See also