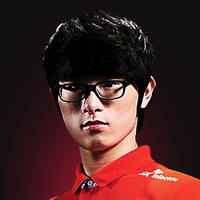 Piglet
Chae Gwang-jin, 25 years South Korea
3
Gold in tournaments:
ITENJOY NLB Summer 2014
All-Star 2014 Paris
OGN Champions Winter 2013-2014
1
Silver in tournaments:
2014 Season Korea Regional Finals
3
Bronze in tournaments:
IEM Season XI — Gyeonggi
2016 NA LCS Summer Split
2015 NA LCS Spring Split

Team player
Clutch Gaming
Total matches: 148
Piglet is a professional League of Legends player from Korea and one of the winners of Season 3 World Championship (as a member of SKT T1). Piglet was a semi-professional StarCraft player before switching to LoL. He started playing at competitive level in 2013. Piglet prefers to play Carry and is considered to be one of the best Vayne players in the world. Piglet's talisman are Winnie the Pooh's socks. He's wearing them every time he plays in any professional game. In October 2014 Piglet moved to America and joined Team Liquid.
Participation in teams
Team

Winners Draws Losers
Awards
Place

Tournament

Prize

Prize fund
See also