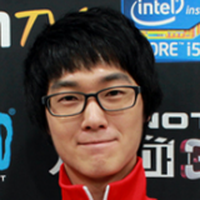 Polt
Choi Seong Hun, 31 years South Korea
5
Gold in tournaments:
2016 WCS Circuit: Winter Circuit Championship
Kings of the Craft
WCS 2015 Season 1 Europe
ZOTAC Cup Season 4 Final 2014
Red Bull Battle Grounds: Detroit 2014
5
Silver in tournaments:
2016 WCS Circuit: Summer Circuit Championship
MLG Anaheim 2014
Red Bull Battle Grounds 2014: North America
Lone Star Clash 3
IEM Season VIII - Cologne
3
Bronze in tournaments:
2016 WCS Circuit: Spring Circuit Championship
WW 3
Red Bull Battle Grounds: Washington
Total matches: 169
Polt is one of the oldest, most popular professional gamers with plenty of titles in the history of StarCraft II. And he is definitely the best at English amongst Koreans. His eventful gaming career started with Warcraft III, but he became a professional player only in the StarCraft II times. Polt made his first achievements in 2010, knocking Boxer out of the GSL during one of the first rounds and demonstrating the Raven/Banshee Polt Timing Attack strategy, which is to be a problem for Terran players for a long time. Up until the 2012 Battle.net World Championship Polt was a record-holder in terms of prize money earned for a single event, which he got by winning the GSL Super Tournament in the summer of 2011 and thus making 100 million wons (approximately $93,000). Moreover, Polt won ASUS ROG, MLG, WCS America (in 2013 he became the only player to win the WCS twice), hit top-3 at DreamHack, IPL, NASL and always surprised everyone with his English skills and fascinating smile. By the way, Polt's devotion to US tournaments is caused by a simple thing: at the end of 2012 he moved to Texas after getting education at one of the Seoul's universities. Many American fans treat him as an American player and cheer for him at international events. This attitude to Polt is maintained by the player himself. At the beginning of 2014 he gained an American athlete visa, which made him the second StarCraft II player to be given this honour. Throughout his career, Polt did not change a lot of organisations. Since 2010 till 2011 he was a member of Prime. In 2011-2012 he played for Team SCV Life. On the 12th of March 2012 he was signed by CM Storm, where he stayed for almost 3 years. On the 5th of March 2016 Polt left the organisation and joined Team EnVyUs in May.
Participation in teams
Team

Winners Draws Losers
Awards
Place

Tournament

Prize

Prize fund
See also