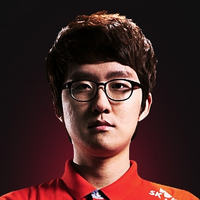 PoohManDu
Also known as: ManDu
Lee Jeong-hyeon, 28 years South Korea
3
Gold in tournaments:
ITENJOY NLB Summer 2014
All-Star 2014 Paris
OGN Champions Winter 2013-2014
1
Silver in tournaments:
2014 Season Korea Regional Finals
Total matches: 29
Lee "PoohManDu" Jeong-hyeon is a professional LoL player from Korea, currently filling the position of coach for SKT T1. Lee started playing LoL competitively in 2012. His main role is Support. The player is known for extremely aggressive playstyle and unorthodox picks (Support LeBlanc, Mordekaiser and Fiddlesticks), PoohManDu had his name go down in the history of LoL by winning Season 3 World Championship. In December 2014, Lee left SKT T1 and became coach for Invictus Gaming, returning to SKT T1 one year later.
Participation in teams
Team

Winners Draws Losers
Awards
Place

Tournament

Prize

Prize fund