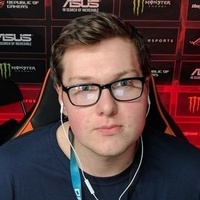 qojqva
Also known as: Pro1Like
Max Bröcker, 24 years Germany
8
Gold in tournaments:
MegaFon Champions League Season 2
Reshuffle Madness
X-Bet.co Rampage Series #2
Rivalry.gg Rumble
X-Bet.co Rampage Series #1
Eizo Cup #12
Celebrity Deathmatch
Megafon Battle Arena
9
Silver in tournaments:
LOOT.BET Winter Masters
Dota 2 Champions League Season 12
ROG MASTERS 2017. USA Qualifier
Betway Arena King of the Hill #4
ASUS ROG DreamLeague Season 6
Royal Arena #1
NVIDIA Game24 DotA 2 Invitational
Dota 2 Champions League Season 4
American Dota League Season 2
4
Bronze in tournaments:
GG.Bet Dota 2 Invitational
ASUS ROG DreamLeague Season 4
Area 51 Dota2 Cup
XMG Captains Draft 2.0

Total matches: 654
qojqva is a professional Dota 2 player who is currently representing No Diggity. qojqva first appeared on the competitive scene in late 2012. Then he was playing for a little-known EU mix HelloMoto. In October 2012 Max joined the reformed Danish-German squad Meet Your Makers. Unfortunately, the team was disbanded in less than a month, and qojqva was picked by We haz Azian. In March 2013 qojqva joined German team mousesports, where he finally managed to prove himself. The team showed promising results on large tournaments, yet at The International 2013 mousesports finished 13th-16th. Max left the team and joined Team Liquid. Max changed his role and became a mid player after DeMoN joined the team in April 2014. Team Liquid finished 9-10th at TI4, showing a better-than-expected result. Max, however, parted ways with the team and joined Team Tinker - a new and promising mix consisting of EU players. Team Tinker's performance started to deteriorate as TI5 grew closer, and the team decided to switch region and participate in the NA qualifiers. After such a decision the team became hated by Dota 2 community, and even a sponsorship from mousesports didn't help to restore the team's image. The new mousesports squad was kicked after failing to qualify for TI5, and qojqva went inactive. In February 2016 Max returned and joined a new European team No Diggity Gaming. Max's signature heroes are Lone Druid, Tinker and Nature's Prophet. Before 2014, he was playing on offlane position, but now he prefers to be on mid lane.
Participation in teams
Team

Winners Draws Losers
Awards
Place

Tournament

Prize

Prize fund
See also