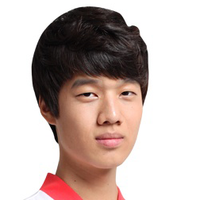 Rain
Also known as: By.Sun, By.Rain
Jung Yoon Jong, 27 years South Korea
3
Gold in tournaments:
Conn.Si Christmas League
PughCraft Invitational #2
Hot6ix Cup
2
Silver in tournaments:
IEM Season IX - San Jose
Proleague 2014
2
Bronze in tournaments:
IEM Season VIII - Cologne
Global StarCraft II League Season 1 (WCS) 2014
Total matches: 117
Jun "Rain" Yoon Jong is a retired professional StarСraft 2 player from Korea, last seen in mYinsanity. Years ago he was known as "By.Sun" (an interesting wordplay, actually - he changed his nickname from "sun" to "rain"). He was one of the first KeSPA players to move to StarCraft 2. Although he wasn't very famous in StarCraft: Brood War, Rain almost immediately climbed to the very top after switching to SC2. After becoming the first (together with Jaedong) KeSPA representative at GSL, Rain made it to the semifinal in his debut season. It was him who became the winner of first StarCraft 2 OSL (it's worth noting that he also became a finalist of the next OSL) and champion of GSL final tournament in 2013, Hot6ix Cup. For a long time Rain was known for his defensive and safe playstyle. However, as SC2: Heart of the Swarm was closing its release date, Rain's playstyle became less predictable. In the end, Rain transformed into an ideal all-around player. This is the player we could call the most consistent top-tier player in the history of StarCraft 2.
Participation in teams
Team

Winners Draws Losers
Awards
Place

Tournament

Prize

Prize fund
See also