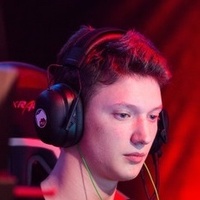 Resolut1on
Roman Fominok, 23 years Ukraine
21
Gold in tournaments:
King's Cup 2. North America
GESC: Thailand Minor
MDL Macau
Dota PIT League Season 6: Europe Qualifier
DreamLeague Season 7. NA Division
ESL One Genting 2017
Dota 2 Canada Cup Season 7
BTS Americas #3
DreamHack Moscow 2015
Dota 2 Champions League Season 5
JoinDOTA MLG Pro League Season #1
joinDOTA Masters Season 15
SLTV StarSeries XI LAN Finals
GIGABYTE Challenge #10
Excellent Moscow Cup #2
Dota 2 Champions League Season 3
TECHLABS CUP RU 2014
Excellent Moscow Cup
EIZO Cup #11
CIS Carnage 2014
18
Silver in tournaments:
MDL Changsha Major
StarLadder i-League Invitational #3: Europe Qualifier
DreamLeague Season 7
Galaxy Battles
The International 2016
PGL Dota 2 Pro-AM
Dota 2 Champions League Season 6
ASUS ROG DreamLeague Season 4
E-sport-bets Celebration Show-match Dota 2
MarsTV Dota 2 League Spring
Major All Stars Dota 2 Tournament
Esportal Dota 2 League
HyperX D2L Season 5
SLTV StarSeries IX Finals
Gfinity Dota 2 Cup
MLG T.K.O.
ESP Shock Therapy Cup
TECHLABS CUP 2013 Dota 2 GRAND FINAL
11
Bronze in tournaments:
DOTA Summit 9
Captains Draft 4.0
The Summit 8
WESG 2017 Europe Finals
Midas Mode
PGL Open Bucharest 2017. Europe Qualifier
2016 China Top. Dota 2
Dota 2 Champions League Season 4
Game Show Dota 2 League Season One
ASUS ROG DreamLeague Season 1
Dota 2 Champions League Season 2

Team player
Forward Gaming
Total matches: 906
Resolut1on is a famous Ukrainian Dota 2 player. He started his career when he was about fifteen, and he is one of the competitive scene's youngest players. He made himself a name in his first professional team called ICCup, which he joined in the spring of 2013. Back then the guys unexpectedly reached the grand final of StarLadder StarSeries Season 6. From August till October 2013 Roman tried out in Virtus.pro, but left the team, leaving with Goblak for Rox.KIS. He didn't stay there for long as well. In November Resolut1on was invited by Team Empire to replace Scandal, the veteran of the team. Roman not only became the midlaner of the team, but would also take charge as the captain. Resolut1on was through fire and flames with the team. He went to The International twice, not living up to the expectations both times. By the beginning of 2016 Roman made an unusual (for a CIS player) decision and went to American Digital Chaos. The announcement took place on 4th February 2016. Resolut1on's signature heroes are Invoker, Puck and Dragon Knight.
Participation in teams
Team

Winners Draws Losers
Awards
Place

Tournament

Prize

Prize fund
See also