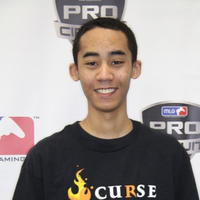 Rhux
Keenan Santos, 25 years USA
1
Silver in tournaments:
NA Challenger Series Summer
Total matches: 57
Keenan "Rhux" Santos is a professional League of Legends player from the USA. He started to play LoL in 2010 and made his first appearance on the competitive scene in 2013. Rhux's main role is Top, although he played Support on some occasions. His favourite champions are Jayce, Zac and Lee Sin. In 2012, Rhux finished first at Curse Proving Grounds 1v1 tournament. Fun fact: at the very beginning of his career Rhux received a 14-day ban for Elo boosting.
Awards
Place

Tournament

Prize

Prize fund