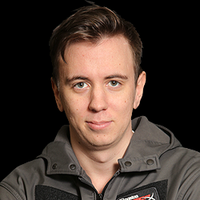 s4
Also known as: Carl, Björn
Gustav Magnusson, 27 years Sweden
20
Gold in tournaments:
DOTA Summit 9
MDL Macau
Dota PIT League Season 6: Europe Qualifier
The Kiev Major 2017
Elimination Mode 3.0
The Boston Major 2016
Elimination Mode 2.0
Aftonbladet Fight Night #4
SL i-League 2015 Dota 2
MarsTV Dota 2 League Spring
Red Bull Battle Grounds
ESL One Frankfurt 2015
The Summit 3
XMG Captains Draft 2.0
Dota Pit League Season 2
DreamHack Bucharest 2014
ASUS ROG DreamLeague Season 1
Dota 2 Champions League Season 1
Fragbite Masters 2013
7
Silver in tournaments:
MDL Macau 2019
StarLadder i-League Invitational #3: Europe Qualifier
Dota 2 Asia Championships 2017
The Summit 6
Dota Pit League Season 5
SLTV StarSeries X LAN Finals
SLTV StarSeries VIII
17
Bronze in tournaments:
The Chongqing Major
The Kuala Lumpur Major
The International 2018
Captains Draft 4.0
The Summit 8
Midas Mode
PGL Open Bucharest 2017. Europe Qualifier
SL i-League StarSeries Season 3
MarsTV Dota 2 League 2016 Autumn
Captains Draft 3.0
Moonduck Studios Dota 2 Cup
The Defense 5
Dota 2 Asia Championships
The Summit 2
Dota 2 Champions League Season 3
XMG Captains Draft Invitational
ASUS ROG DreamLeague Kick-Off Season

Team player
Evil Geniuses
Total matches: 771
s4 is one of the most popular Dota 2 players in the swedish pro scene, and a multiple European champion of DreamHack and ESL One. He won The International 2013 with The Alliance. A mid-lane player, his signature heroes are Puck, Magnus, and Batrider. Before Dota 2, s4 was on the Heroes of Newerth team ADON with Era, jonassomfan, and Mynuts.
Participation in teams
Team

Winners Draws Losers
Awards
Place

Tournament

Prize

Prize fund
See also