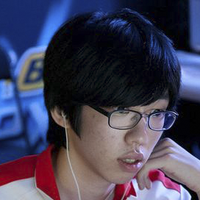 San
Kang Cho Won, 29 years South Korea
2
Gold in tournaments:
Dragon Invitational Tournament #4
ASUS ROG Winter 2014
3
Silver in tournaments:
WCS 2014 Season 2 Europe
IEM Season VIII SC2 - Singapore
Dailymotion Cup 2013
1
Bronze in tournaments:
DreamHack Summer 2014 SC2
Total matches: 119
San is one of the most enigmatic players in the history of StarCraft 2. His eSports career started not as well as he would have wanted: in late 2010, San gave one of the worst performances in the history of GSL, making 5-6 gross mistakes agains a Zerg at Delta Quadrant. As a result, he was considered to be one of the weakest Protoss players on the scene. However, in the next year he climbed to the top and became one of the best players in Korea, making it to the semifinals of GSL Code S and World Championship. In the latter tournament he consecutively eliminated two CIS players: White-Ra (who remarked his great 4 warp gate push strategy) and Dimaga (the latter then complained that Protoss were doing too much damage). After such a miraculous run San disappeared from the scene, showing pretty disappointing results. His career peaked again in the second half of 2013, when he finished second at ASUS ROG and Dreamhack. At last, in early 2014 San earned the first place at ASUS ROG and won a hefty sum of $100 thousand. What makes San such an enigmatic and extraordinary player? His career peaked twice, when Protoss were considered to be the strongest race in SC2. Even more, it was San who forced Blizzard to nerf Protoss in some of the update patches. It's hard to say how San will perform now that StarCraft 2 is finally one of the main games on the Korean scene. One could be said for certain - this guy understands the game like nobody else. It is hard to underestimate how his strategies turned the tides even in the hardest battles.
Participation in teams
Team

Winners Draws Losers
Awards
Place

Tournament

Prize

Prize fund