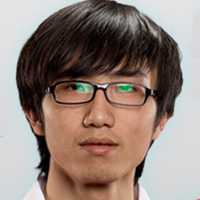 SanSheng
Also known as: SanShengSanShi, 34
Wang Zhaohui, 30 years China
4
Gold in tournaments:
World Showdown of Esports #1
IeSF 2014 World Championship
World Cyber Arena 2014
The International 2014
8
Silver in tournaments:
STARLUCK DOTA2 Challenge
Dota 2 Professional League Season 1
ECL 2014
WVW - June
Sunt CDEC New Star Cup
V Games Tournament #2
Esports Champions League 2014
Fengyun Championship
2
Bronze in tournaments:
GEST The Challenge June
Red Bull ECL 2013 Grand Finals
Total matches: 250
Wang "SanSheng" Zhaohui is a professional Dota 2 player from China. SanSheng began his eSports career in 2011 by joining Invictus Gaming. He was still playing DotA Allstars for team PanDarea, although Dota 2 was already available. In 2012 he was signed by TongFu and played for them for approximately two years, earning his fame and finishing 4th at The International 3. In April 2014 Wang was invited to join NewBee, a new "dream team" consisting of xiao8 and TongFu's core players. The team received a direct invite to The International 2014, a move that was considered to be unreasonable by some analysts. Surprisingly, NewBee not only managed to show great performance, but actually won the tournament, becoming the best Dota 2 team of 2014. In April 2015 SanSheng became a sub player for the team. He left NewBee in December 2015. SanSheng's main position is Support. His signature heroes are Rubick, Visage and Shadow Demon.
Participation in teams
Team

Winners Draws Losers
Awards
Place

Tournament

Prize

Prize fund
See also