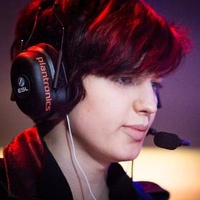 Scarlett
Sasha Hostyn, 27 years Canada
7
Gold in tournaments:
WESG 2016. Americas LAN Qualifier
Red Bull Battle Grounds 2014: North America
Believe in StarCraft2 Cup
Acer TeamStory Cup Season 3
MLG GameOn Invitationals
Acer TeamStory Cup Season 2
3
Silver in tournaments:
HomeStory Cup XIII
The Foreign Hope
ASUS ROG NorthCon 2013
6
Bronze in tournaments:
2018 Master's Coliseum
NationWars IV
Douyu Cup Monthly Final #4
HomeStory Cup IX
Red Bull Battle Grounds New York City
RaidCall ESL Euro Series Winter 2013

Total matches: 301
Sasha "Scarlett" Hostyn is a professional female StarCraft II player from Canada. She quickly made it to the top of StarCraft II players by winning against many formidable foes, including professional Korean players. Then she came out as a transsexual. Scarlett became one of the strongest players not only in Canada, but in the whole world. Many people hate her, yet many more treat her with proper respect. She's definitely hated by other female players, as she likes to stomp female tournaments. In 2012, Scarlett became the WCS North America champion. She played for Eclypsia and Team Acer. In June 2016 Scarlett signed with Dead Pixels.
Participation in teams
Team

Winners Draws Losers
Awards
Place

Tournament

Prize

Prize fund
See also