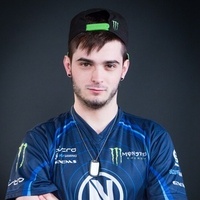 shox
Also known as: shoxie
Richard Papillon, 27 years France
20
Gold in tournaments:
WESG 2018 North-West Europe
DreamHack Masters Malmö 2017
ESL Pro League Season 5. LAN Finals
HTC 2vs2 Invitational by PGL
DreamHack Tours 2017
Esports Championship Series Season 1 - Finals
HTC One vs One Invitational by PGL
The World Championships 2015
Gfinity Masters #3
E-sport-bets Celebration Show-match CS:GO
Gfinity Masters #1
SLTV StarSeries XII CS:GO
MLG X Games
G2A.com December Cup Powered by FACEIT Europe
DreamHack Winter 2014
SLTV StarSeries XI CS:GO
Hitbox Arena Championship 3
Electronic Sports European Championship 2014
DreamHack Stockholm Invitational
MSI Beat it! 2013 Grand Finals
15
Silver in tournaments:
PLG Grand Slam 2018
Northern Arena 2016 — Montreal
StarLadder i-League StarSeries Season 2
ESL Pro League Season 3
Aftonbladet Fight Night #2
StarSeries ХIII CS:GO
Counter Pit League Season 1
DreamHack Tours 2015
FPL Challenge
ESWC 2014
DreamHack Stockholm CS:GO Invitational
Fragbite Masters 3 CS:GO
DreamHack Valencia 2014 CS:GO
Fragbite Masters 2014
ESEA Invite 15 Finals
9
Bronze in tournaments:
Charleroi Esports 2019
World Electronic Sports Games 2018
EPICENTER 2017
ESL Expo Barcelona
IOS Pantamera
ESL Pro League Winter 2014/15
DreamHack Summer 2014 CS:GO
FACEIT Spring League
SLTV StarSeries IX

Total matches: 914
shox is one of the best players in the history of Counter-Strike: Source. He was called the best CS:S player in 2008, 2009 and 2011, while mostly playing for French teams. In 2012 shox switched to CS:GO. Since then he played for a lot of top-tier French teams, including VeryGames, Titan and EvVyUs. Every year shox makes it to the top-20 of best Counter-Strike gamers. His playstyle is characterised by smart actions that lead his team to victory. He is an all-around player that can be both second sniper and in-game leader. In February 2016, Richard and his teammates joined G2 eSports.
Participation in teams
Team

Winners Draws Losers
Awards
Place

Tournament

Prize

Prize fund
See also