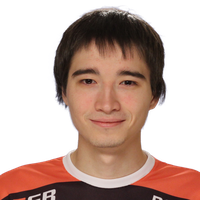 Silent
Airat Gaziev, 27 years Russia
15
Gold in tournaments:
ROG MASTERS 2017
Loot Market Invitational
Dota 2 Champions League: Christmas Charity Magic
Dota 2 Champions League Season 5
JoinDOTA MLG Pro League Season #1
joinDOTA Masters Season 15
SLTV StarSeries XI LAN Finals
GIGABYTE Challenge #10
Excellent Moscow Cup #2
Dota 2 Champions League Season 3
TECHLABS CUP RU 2014
Excellent Moscow Cup
EIZO Cup #11
CIS Carnage 2014
15
Silver in tournaments:
ProDotA Cup Europe #7
PGL Dota 2 Pro-AM
The Summit 4
Dota 2 Champions League Season 6
ASUS ROG DreamLeague Season 4
E-sport-bets Celebration Show-match Dota 2
MarsTV Dota 2 League Spring
Major All Stars Dota 2 Tournament
Esportal Dota 2 League
SLTV StarSeries IX Finals
Gfinity Dota 2 Cup
MLG T.K.O.
ESP Shock Therapy Cup
TECHLABS CUP 2013 Dota 2 GRAND FINAL
EIZO Cup #9
7
Bronze in tournaments:
EPICENTER XL
MID.TV Challenge Cup
DreamLeague Season 7 EU Division
Dota 2 Champions League Season 4
Game Show Dota 2 League Season One
ASUS ROG DreamLeague Season 1
Dota 2 Champions League Season 2

Team player
FTM.Winstrike
Total matches: 775
Silent is a professional Dota 2 player. Despite of his long career in Dota 2 he has been noticed on the pro scene after joining Moscow 5 on 5th of March 2012. The new roster was built around famous PGG. Moscow 5 visited TI2 and took the last place that caused disband. Airat got an invitation to team Empire from Goblak and Funn1k. Team showed good results but in spring of 2013 they suffered from changes in roster – Silent and Goblak left the Empire and joined French mix DD.Dota. On the 4th of June DD.Dota signed a contract with Quantic Gaming. Silent participated in the International for a second time but his team couldn't get even through Wild Card. Airat came back to Team Empire and till December 2015 they experienced the Empire's ups and falls. Silent earned for his team the champion titles of Dota 2 Champions League Season 3, Excellent Moscow Cup 2, Star Ladder Star Series Season 11, jD MLG Pro League Season 1, Dota 2 Champions League Season 5. Mostly the tournaments were online. Again at the third time Airat wasn't so lucky at the International. In TI4 he took 13-14 and in TI5 9-12. In December after another crisis inside of Team Empire, Silent joined Virtus.pro. Previously he was playing for supports but there he once and for all had taken carry position. His signature heroes are Gyrocopter, Mirana, Luna.
Participation in teams
Team

Winners Draws Losers
Awards
Place

Tournament

Prize

Prize fund
See also