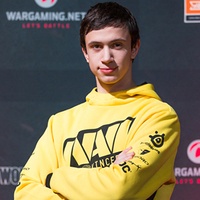 SL1DE
Also known as: POWERSL1DE, Na'Vi.SL1DE
Dmitry Frischmann, Ukraine
9
Gold in tournaments:
Wargaming.net League 2016 Grand Final
WGL RU Gold Series 2015 Season 2
RU Gold Series 2015 Season 4
RU Gold Series 2015 Season 3
RU Gold Series 2014 Season 1
Wargaming.net League Grand Final
Go4WoT Finals: December
WCG WoT 2013
Wargaming.net League Season 3
1
Silver in tournaments:
RU Gold Series 2014 Season 2
3
Bronze in tournaments:
Continental Rumble
Wargaming.net League 2015 Grand Final
Virtus.pro Staff Cup #1
Total matches: 123
Dmitry "SL1DE" Frischmann is a professional World of Tanks player from Kharkiv, Ukraine. He started playing when he was still a teenager, attending his very first LAN tournament when he was 14 years old. Being one of the youngest and most promising players, he won a lot of large tournaments before reaching 20. He became famous while playing for The RED:RUSH 2. Some time later he was promoted to RUSH primary squad that was later signed by Natus Vincere. SL1DE is a WCG World of Tanks World Champion.
Participation in teams
Team

Winners Draws Losers
Awards
Place

Tournament

Prize

Prize fund
See also