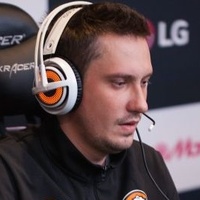 Solo
Also known as: SoloLineAbuse
Alexei Berezin, 29 years Russia
24
Gold in tournaments:
The Kuala Lumpur Major
Autumn Brawl
ESL One Birmingham 2018
WESG 2017 Dota 2
The Bucharest Major
ESL One Katowice 2018
WESG 2017 Europe Finals
ESL One Hamburg 2017
Dota PIT League Season 6: CIS Qualifier
ESL One Hamburg 2017 CIS Qualifier
DOTA Summit 7
Mr. Cat Europe Invitational
Russian e-Sports Cup 2017. Dota 2
Betway Arena King of the Hill #3
The Summit 6
BTS Europe #4
ESL One New York 2015
Yard G2A Fest Ep.1
GIGABYTE Challenge #10
Excellent Moscow Cup #2
Fragbite Masters 2014
Dota2.Ru Cup #2
Gfinity Dota 2 Cup
Battle of Four
9
Silver in tournaments:
The Chongqing Major
China Dota2 Supermajor
Adrenaline Cyber League 2017
The Kiev Major 2017
Global Grand Masters
WePlay Dota2 League Season 3
Captains Draft 3.0
PD Cup Winter
CIS Carnage 2014
10
Bronze in tournaments:
ESL One Hamburg 2018
Dota 2 Asia Championships 2018
PGL Open Bucharest 2017. CIS Qualifier
ESL One Genting 2017
ESL One Frankfurt 2016
BTS Europe #1
Esportal Dota 2 League
Dota 2 Champions League Season 4
Game Show Dota 2 League Season One
MLG T.K.O.

Total matches: 736
Solo is a professional Dota 2 player. He has been known in CIS scene for his play in team zNation. His specialization is support role. He was nailed for his attempt to cheat with stakes that caused a scandal #322. He bet against his own team at one match of StarSeries and then threw the game intentionally. After that discover he was excluded from ToX.KIS roster and banned at all leagues for one year. After some time he came back to the professional Dota 2 scene and was playing for such teams as Virtus.pro, Relax, Poseidon, Team Empire and XX5 Gaming. Currently plays for VegaSquadron in support position. He is good at Io and Witch Doctor.
Participation in teams
Team

Winners Draws Losers
Awards
Place

Tournament

Prize

Prize fund
See also