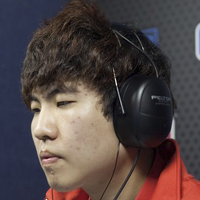 soO
Also known as: n.Die soO
Eo Yoon Soo, 27 years South Korea
4
Gold in tournaments:
Master's Coliseum 4
StarCraft II: NationWars V
RavenZ Cup VIII
Proleague 2015
11
Silver in tournaments:
2018 Master's Coliseum
HomeStory Cup XVII
2017 WCS Global Finals
2017 VSL Season 2 - Individual League
2017 Global StarCraft II League Season 2. Code S
2017 Global StarCraft II League Season 1. Code S
DreamHack Open: Stockholm 2014
2014 Global StarCraft II League Season 3
Global StarCraft II League Season 2
Global StarCraft II League Season 1 (WCS) 2014
Proleague 2014
3
Bronze in tournaments:
2017 GSL vs the World
GSL Global Championship 2014
Total matches: 272
n.Die_soO (also known as soO) spent the most of his career playing for SK Telecom T1, one of the most popular and decorated StarCraft II teams from South Korea. In this team the Zerg player transformed from a sparring partner for the second roster to the leading player of the team. soO, however, wasn't very successful in individual tournaments. Throughout his Brood War career he only managed to reach the semifinals of OSL 2011. When he transitioned to StarCraft II, he managed to show up in late 2013 – early 2014, showing perfect performance at GSL Code S twice. Such progess can be attributed to Soulkey, another player who joined the team during SC2: Heart of the Swarm Era. According to soO's own words, he took over a lot of in-game aspects from his teammate. Many things have changed throughout the years, including the team uniform (let's compare the old one and a newer one). His playstyle, however, remains unchanged. He uses the same reliable, scouting-related playstyle that features a careful and correct strategy for each map. He outplayed even the most dangerous opponents simply because of his deep in-game experience and knowledge. soO is respected by literally every true StarCraft II fan.
Participation in teams
Team

Winners Draws Losers
Awards
Place

Tournament

Prize

Prize fund
See also