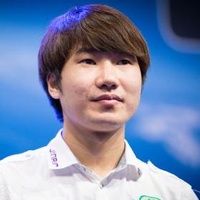 sOs
Also known as: sHy
Kim Yoo Jin, South Korea
6
Gold in tournaments:
Intel Extreme Masters X - Taipei
Proleague 2016
2015 World Championship Series Global Finals
2014 Hot6ix Cup
IEM Season VIII - World Championship
WCS Global Finals
7
Silver in tournaments:
2018 AfreecaTV GSL Super Tournament 2
2017 Global StarCraft II League Season 3: Code S
2016 Global StarCraft II League Season 2
Kings of the Craft
Proleague 2015
Red Bull Battle Grounds New York City
4
Bronze in tournaments:
Master's Coliseum 4
2018 WCS Global Finals
2018 WCS Global Finals
2017 Global StarCraft II League Season 1. Code S

Team player
Jin Air Green Wings
Total matches: 267
sOs, also known as Shy during the StarCraft 1 era, has become one of the most fateful StarCraft 2: Heart of the Swarm players. This protoss has invented a whole new PvZ playstyle that involved a Void Ray - Zealot - Archon combination. The combo became one of the most popular in Protoss vs Zerg matches in 2013 and brought great results to sOs himself. PvZ matchup also let sOs become a World Champion in 2013. The player took first place at World Championship Series Grand Finals, a tournament that was held at BlizzCon 2013, and advanced to the finals of WCS 2013 Season One and Red Bull Battle Grounds New York. After having to leave Woongjin Stars for Jin Air Green Wings, in March 2014 sOs was invited to IEM World Championship as the defending champion. It was at that tournament where sOs earned his second victory as a Protoss and won another $100,000. sOs played through proxy gateways in two starting sets for the first time in the history of StarCraft 2. Thanks to these two victories, sOs became the most successful player of 2013-2014. His performance at ProLeague 2014 was very strange to say the least. He started with a score of 2-7 and became the biggest disappointment of the first round, but then won all his games in second round and received a prize for the largest number of victories, winning 22 more times and losing only 5 games. Interesting fact: no losing player (including sOs) has ever managed to win more than 1 map at all individual finals that featured sOs as a player. Moreover, for a long time he failed to take first place at any Korean cup. However, in 2014 sOs finally took first place at Hot6ix Cup 2014, earning his first title in the Korean region.
Participation in teams
Team

Winners Draws Losers
Awards
Place

Tournament

Prize

Prize fund
See also