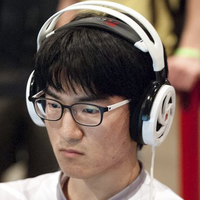 StarDust
Also known as: M18M
Son Seok Hee, 29 years South Korea
5
Gold in tournaments:
WCS 2014 Season 2 Europe
EnerJ Cup XVI - Final
Fragbite Masters 2013
RaidCall ESL Euro Series Winter 2013
ESET Masters 2013
1
Bronze in tournaments:
Red Bull Battle Grounds: Detroit 2014
Total matches: 157
Son "StarDust" Seok Hee is a professional StarCraft II and a former StarCraft: Brood War player from Korea. When he started playing SC:BW competitively, he was also known as M18M. He wasn't successful at the moment, only managing to occasionally defeat such players as Flash. Some time later M18M switched to StarCraft II and changed his nickname to StarDust, but the situation didn't improve. He was relatively unknown at the scene, being constantly eliminated in the first rounds of every major tournament and showing no progress at ProLeague. Unsatisfied with such results, StarDust moved to Europe. Moving to Europe was very, very beneficial for StarDust. He quickly made it to the top of the European scene while playing for mYinsanity. He emerged victorious in an extremely hard battle against the Korean legend Jaedong and finished first at DreamHack Summer 2013. He could've only dreamed about such success in Korea, where he was unable to hold on even for a few rounds at large tournaments. Some players cannot show the same good performance after winning at a large tournament. StarDust, however, was an exception. He continued his winning streak, making in to top-3 of literally any major events. We could only wonder what transformed StarDust from a mediocre player to a living legend whose name will be forever etched into the history of StarCraft II. Hi is quite proficient in English, he is a very communicable, warm-hearted player who smiles a lot. It is hard to find a professional player who even remotely resembles StarDust.
Participation in teams
Team

Winners Draws Losers
Awards
Place

Tournament

Prize

Prize fund