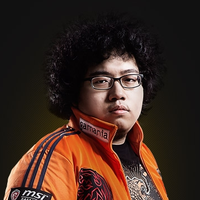 Steak
Also known as: PinkUnicorn1
Chou Lu-Hsi, Taiwan
1
Gold in tournaments:
IEM Season IX - Taipei LoL
2
Bronze in tournaments:
LMS Summer 2015
IEM Season IX - World Championship
Total matches: 61
Steak is a retired professional League of Legends player, currently filling the analyst position for yoe Flash Wolves. He appeared at the scene in 2012. Before his retirement, Steak preferred to play Top. His player career peaked during Season 3, when his team Gamania Bears won the regional finals, qualifying for Season 3 World Championship.
Participation in teams
Team

Winners Draws Losers
Awards
Place

Tournament

Prize

Prize fund