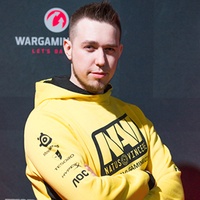 STRAIK
Also known as: StraikoiD, NAVI_STRAIK
Oleg Romanenkov, Russia
8
Gold in tournaments:
Wargaming.net League 2016 Grand Final
WGL RU Gold Series 2015 Season 2
RU Gold Series 2015 Season 4
RU Gold Series 2015 Season 3
RU Gold Series 2014 Season 1
Wargaming.net League Grand Final
Go4WoT Finals: December
Wargaming.net League Season 3
1
Silver in tournaments:
RU Gold Series 2014 Season 2
2
Bronze in tournaments:
Continental Rumble
Wargaming.net League 2015 Grand Final
Total matches: 117
Oleg "Straik" Romanenkov is a starter of Na'Vi's World of Tanks roster. Like most of his teammates, he began his eSports career in team The Red: RUSH. He is a winner of Wargaming.net League 2014 Grand Final and a lot of other top-tier World of Tanks tournaments. Straik and his teammates are the most decorated players in World of Tanks. During his eSports career Oleg has repeatedly taken top places in post-match/post-tournament stats and different hall of fames. His stats on his main account are truly amazing.
Awards
Place

Tournament

Prize

Prize fund
See also