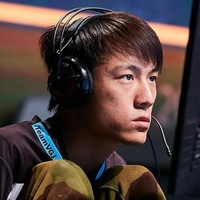 Sylar
Liu Jiajun, 26 years China
11
Gold in tournaments:
H-Cup Season 11
Dota2 Professional League Season 6. Open Qualifier
Galaxy Battles II
H-Cup Season 8
PGL Open Bucharest 2017. China Qualifier
G-League 2015
i-league Season 3
i-league Season 2
G-League 2014
SINA Cup Supernova Dota 2 Open
RaidCall EMS One Fall Season
11
Silver in tournaments:
WESG 2018. China finals
StarLadder ImbaTV Invitational Season 5
GESC: Indonesia Minor
The Bucharest Major
2017 China Top. Dota 2
VPGame Pro League
National Electronic Sports Tournament 2014
The International 2014
WVW National Esports Professional League
SINA Cup Supernova S3
9
Bronze in tournaments:
H-Cup Season 9
Dota2 Professional League 2017 Season 4 — Top League
Shanghai Dota 2 Open #2
SL i-League 2015 Dota 2
The International 2015
ECL Spring 2015
The Summit
Dota 2 League Season 4
2013 WPC ACE Dota 2 League

Total matches: 759
Sylar is one of the most consistent and famous Chinese Dota 2 players. He joined the scene in 2011 playing for team World Elite. When LGD was looking for a carry player, Sylar immediately responded and joined the team. At the same time LGD switched to Dota 2 and quickly became the strongest team in China. Sylar was always famous for his thorough and adjusted playstyle. His heroes were slowly, yet methodically gaining advantage to leave no chances to enemies in late game. Unfortunately, this scheme turned out to be fatal. During TI2 Sylar's team, then captained by xiao8, was marching towards victory, but the amazing winstreak was suddenly stopped by Na`Vi. LGD fell to lower bracket and was eliminated by iG. However, the team chose to keep their roster intact for the next TI — only to fall from Team Liquid's hands. Disappointed by LGD's results, Sylar parted ways with the team and joined RisingStars — a team consisting mostly of young players. Some time later he went to Vici Gaming. VG's stellar performance at TI4 allowed the team to take silver at the tournament. Thanks to its agressive fast push style, VG was named the most "non-Chinese" Eastern team. On August 26, 2014 it was announced that Sylar returns to LGD. Team showed good results on The International 2015 but failed to outperform Evil Geniuses and only finished third. Today Liu is one of the most experienced Chinese players, making it to the top-3 of The International for the third time. After a failure at The Shanghai Major it was revealed that Sylar was in conflict with LGD manager, Ruru. He left the team at March 14, 2016. Fun fact: Sylar has a strange habit of putting towels on the keyboard and mouse when he's playing Dota 2.
Participation in teams
Team

Winners Draws Losers
Awards
Place

Tournament

Prize

Prize fund
See also