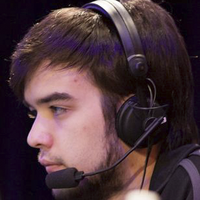 syndereN
Troels Nielsen, 30 years Denmark
4
Silver in tournaments:
MegaFon Champions League Season 2
Betway Arena King of the Hill #4
ASUS ROG DreamLeague Season 6
Royal Arena #1
1
Bronze in tournaments:
Netolic Pro League #4 West

Total matches: 306
SyndereN is a professional Dota 2 player and a former DotA Allstars player from Denmark. SyndereN's eSports career started during the DotA Allstars era. Back then, he became famous while playing for The Shit! and Online Kingdom. He earned the reputation of "the stack builder", as all his teams were quite short-lived, despite showing promising performance sometimes. SyndereN met Dota 2 with great enthusiasm and joined the Danish team Next Evolution which had earned the right to play in The International 2011. Unfortunately, the team finished 13th–16th. Troels' next stack, Wild Honey Badgers, won DreamHack Winter, and in December 2011 the team was signed by Mortal Teamwork. mTw's performance in DreamHack 2012 Summer was quite a positive surprise, as the team managed to outperform Na`Vi and become the champion of the event. However, mTw failed to repeat their success at TI2 and were forced to cope with their 13th–16th place. After the disastrous performance mTw decided to create a new roster and let SyndereN pick whoever he wants for the new team. The renewed roster failed to find wins, and the managers decided to disband it in January 2013. In May 2013 Troels joined mousesports and attended The International 3, only to meet the same fiasco — mousesports finished 13th–16th. He left the team in December 2013 and switched to streaming and commenting various Dota 2 events. SyndereN became very successful at streaming and casting. As a result, he was hired by Dotacinema on January 30, 2014. By the end of 2015 he had decided to return to the competitive scene as a player. He joined Steak Gaming, but it didn't last long, so Synderen created a new stack, No Diggity Gaming, in February 2016. SyndereN is a flexible, all-around player able to play any role or position. His signature heroes are Lina, Invoker and Keeper of the Light.
Participation in teams
Team

Winners Draws Losers
Awards
Place

Tournament

Prize

Prize fund