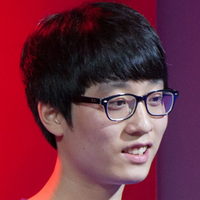 TaeJa
Also known as: CrownPrince, NEXtaeJa
Yun Young Seo, 24 years South Korea
5
Gold in tournaments:
DreamHack Summer 2014 SC2
HomeStory Cup IX
IEM Season IX - Schenzen
DreamHack Winter SC2 2013
HomeStory Cup VIII
3
Silver in tournaments:
DingIt StarCraft II Invitational Season 1
Red Bull Battle Grounds: Detroit 2014
Acer TeamStory Cup Season 3
4
Bronze in tournaments:
2014 DreamHack Open: Winter
HomeStory Cup X
Warer.com Invitational
Acer TeamStory Cup Season 2

Total matches: 151
TaeJa started his professional career in StarCraft2 in 2010 without any experience in both StarCraft: Brood War and WarCraft III or any other game despite of other players. It's worth to mention that he, being a 15 years old teenager, had qualified to his first tournament in Fall 2010 and took the first in league history a technical victory – his opponent simply refused from match at last moment. On the second round he was defeated by the future champion of that tournament – FruitDealer. On May 2011 the young terran joined team Slayers under Boxer's captainship and results didn't keep waiting. TanJa stepped up in GSL and had won mostly the half of all tournaments that had been held in Korea. From that moment the main priorities of a young terran had been defined and later without hesitation he confirmed them - money, money and again money. After several years of gaming, he underlined in his interview that he never enjoyed the game he was playing but he was ready to continue his gaming career till he would keep winning and earn money for his living. Yun's joining to Team Liquid in March 2012 allowed him to visit world championships and earn more money. GSL and other tournaments were thrown into the background. The major tournaments with big prize pools like Dreamhack, ASUS ROG, HomeStory and others became his priorities and bought him a status of the best player 2013 according to a website of his own team Liquid. At the same time the best results of terran for all performances at Korean Global StarCraft 2 League, two semi-finals of last season of GSL 2012 and the first season of GSL 2013 belong to him. It's also should be mentioned that TaeJa had suffered from a professional gaming disease – capral tunnel syndrome. Wrist issues didn't let him to play at some of the tournaments and made him to go temporary inactive. Though those problems couldn't interfere his becoming of the best terran in StarCraft 2 history.
Participation in teams
Team

Winners Draws Losers
Awards
Place

Tournament

Prize

Prize fund
See also