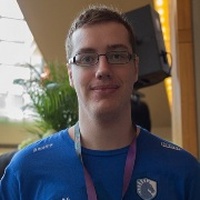 TC
Tyler Cook, 27 years Canada
3
Gold in tournaments:
ProDotA Cup Americas #5
BTS Americas #4
BTS Americas #3
2
Silver in tournaments:
Moonduck Studios Dota 2 Cup
American Dota League Season 2
Total matches: 364
TC started playing Dota when it still was a WarCraft 3 modification. However, he quickly lost interest to the game and switched to Heroes of Newerth. He was playing HoN until 2011. After the success of The International 1 TC's interest in Dota reignited, and he did whatever he could to receive a beta key and start training. In the second half of 2011 Tyler with his friend FLUFFNSTUFF created team FIRE that was signed by compLexity Gaming in February 2012. TC chose to be a carry. His team earned the first place at The Defense Season 2 and received an invitation to The International 2012. However, compLexity finished 9th-12th at the most important Dota 2 tournament and was disbanded in December 2012. However, the players were picked by Team Liquid. Despite numerous roster changes, TC remained in Liquid's roster until the team was disbanded in October 2014. While playing for Liquid, TC won first place at RaidCall Dota 2 League Season 2 and American Dota League, also finishing 7th-8th at TI3. However, Team Liquid was anything but a strong team. Frequent roster changes prevented the team from getting its momentum. In addition, TC himself was criticised for his questionable decisions. After parting ways with Team Liquid TC and FLUFFNSTUFF have joined Sneaky Nyx Assassins — a new American team that was soon renamed to FIRE. He also tried to qualify for The Summit 5 with Canadian team Monib Baray, but the team was eliminated in the very first round. In April 2015 TC became the mid laner for ROOT Gaming. The team tried to qualify for The International, but to no avail. In August 2015 TC received an invitation from a new American-Canadian team Digital Chaos. However, in February 2016 he was kicked from the team in favour of ex-Team Empire player Roman "Resolut1on" Fominok. TC's nickname is an abbreviation of the first letters of his first and last name. His signature heroes are Luna, Lifestealer and Razor.
Participation in teams
Team

Winners Draws Losers
Awards
Place

Tournament

Prize

Prize fund