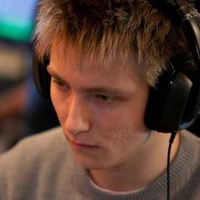 Tefel
Lukasz Czarnecki, 31 years Poland
1
Gold in tournaments:
EnerJ Cup Series 2014 January
4
Silver in tournaments:
Rival StarCraft II League 2016 Season 1
ZOTAC Monthly Final December 2013
Go4SC2 Monthly Final December 2013
EnerJ Cup XVI - Final
1
Bronze in tournaments:
ZOTAC Monthly Final October 2013
Total matches: 111
Tefel was a frequent participant of various online tournaments since the early beta of StarCraft II. However, in 2012 he disappeared from the tournaments and stop training. It was only after being signed by Team Dignitas in November 2012 that he returned to active duty. His biggest achievement is the fourth-place finish in WCS 2012 national finals. Tefel was a long-time player for Team Dignitas. He represented the organisation from November 2012 till April 2016. Unfortunately, he retired from eSports, as he decided to making a living out of programming.
Participation in teams
Team

Winners Draws Losers
Awards
Place

Tournament

Prize

Prize fund