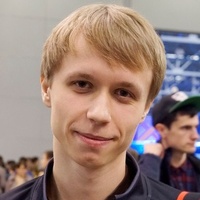 VANSKOR
Also known as: Vanskor
Ivan Skorokhod, 24 years Russia
18
Gold in tournaments:
ROG MASTERS 2017
RofloTurik
Overpower Cup
WellPlay Invitational #7
Dota 2 Champions League Season 8
Game On Invitational #2
NVIDIA Dota 2 Cup Series Grand Final #5
Solid Dota 2 Challenge
ProDotA Cup Europe #5
NXTGAME Invitational #2
Game Show Invitational
Dota 2 Champions League Season 4
Dota 2 Champions League Season 3
TECHLABS CUP RU 2014
Excellent Moscow Cup
EIZO Cup #11
CIS Carnage 2014
21
Silver in tournaments:
GG.Bet Dota 2 Invitational
Reshuffle Madness
Russian Esport championship
World Cyber Arena 2017. Main qualifier. Europe
The Perfect World Masters CIS Qualifier
Dota PIT League Season 6: CIS Qualifier
PGL Open Bucharest 2017. CIS Qualifier
Betway Arena King of the Hill #3
Dota 2 Champions League Season 11
ProDotA Cup Europe #6
Hitbox Elite Cup
Hitbox EU Championship #4
Game Show Dota 2 League Season One
Excellent Moscow Cup #2
Megafon Battle Arena
SLTV StarSeries IX Finals
Gfinity Dota 2 Cup
MLG T.K.O.
ESP Shock Therapy Cup
TECHLABS CUP 2013 Dota 2 GRAND FINAL
EIZO Cup #9
5
Bronze in tournaments:
Rivalry.gg Rumble
The Final Match 2017
Russian e-Sports Cup 2017. Dota 2
ASUS ROG DreamLeague Season 1
Dota 2 Champions League Season 2
Total matches: 860
Vanskor is a professional Dota 2 player. Ivan made his appearance in the professional scene in March 2013 with RoX.KIS. The team didn't succeed though. There was a match fixing scandal in August, and as a consequence some players including VANSKOR left the team. He joined Team Empire with whom he spent a season really well, winning several tournaments. He proved himself to be a high level Support player, and after the Team Empire's failure in TI4 he became an appealing candidate for the CIS teams. Ilya chose to join Na'Vi who didn't succeed in Season 2014-2015. Their only win was in Dota 2 Champions League Season 4. The leadership issues in the team weren't solved which resulted in the 13rd - 16th place in TI5. It had a negative impact on Ilya's career. He left the team in August 2015 but couldn't find a stable team. Joining one stack after another, Ivan became a part of Rebels in March 2016. He plays Support. His signature heroes are Rubick, Dazzle, Vengeful Spirit.
Participation in teams
Team

Winners Draws Losers
Awards
Place

Tournament

Prize

Prize fund
See also