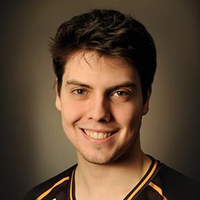 xPeke
Enrique Cedeño Martínez, 27 years Spain
1
Gold in tournaments:
2015 EU Challenger Series
5
Silver in tournaments:
2016 EU LCS Spring Split
2015 EU LCS Summer Split
2014 EU LCS Summer Split
IEM Season VIII - World Championship
IEM Season VIII Cologne Pro Tournament
1
Bronze in tournaments:
2015 Season World Championship
Total matches: 164
xPeke is a professional League of Legends player who won the Riot Season 1 Championship with Fnatic in 2011. He has been playing League of Legends since Season 1. He played Top in 2011 but switched to Mid in Season 2. xPeke had three top 10 accounts on the EUW server. He had three Challenger accounts by the 20th of May 2013. He is well-known for his Kassadin play when he prevented his team from losing by backdooring the enemy nexus and finished the game with 38 hp while the enemy team was trying to win. He was the MVP of the EU LCS in Season 3. In 2014 he created Origen, his own organisation, with whom he made it to the Season 5 World Championship semi-finals. Since 2016 he has been the manager and coach for the League of Legends roster and Mid substitute.
Participation in teams
Team

Winners Draws Losers
Awards
Place

Tournament

Prize

Prize fund
See also