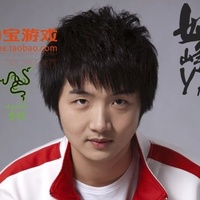 Yao
Also known as: xiaoD
Yao Zhengzheng, 29 years China
8
Gold in tournaments:
China Dota2 Winter Cup
H-Cup Season 10
Mars Dota 2 League 2017
G-League 2015
i-league Season 3
i-league Season 2
G-League 2014
Dota 2 League Season 4
11
Silver in tournaments:
PGL Open Bucharest 2017
Dota PIT League Season 6: China Qualifier
ESL One Hamburg 2017. China Qualifier
Dota2 Professional League Season 3 — Top League
Pro Gamer League 2016 - Summer
VPGame Pro League
National Electronic Sports Tournament 2014
Mars TV Dota 2 League
Netolic Pro League #5 East
SINA Cup Supernova Dota 2 Open
4
Bronze in tournaments:
National Electronic Arena 2016
The International 2015
ECL Spring 2015
G-League 2013

Total matches: 747
Yao's professional career started in 2010 when he joined Dream. At the beginning of 2011 he left eSports because of his studies. In the same year he returned and started playing at the professional level for Nirvana.cn. In August Yao joined LGD. The team kept playing DotA Allstars until the beginning of 2012 when it became clear that Dota 2 was a lot more promising. Yao used to play Mid back then. The team performed well at TI2 and could place first but got defeated by Na'Vi before the grand finals and ended up with the third place. Yao switched to Offlane afterwards. The LGD roster changed multiple times, but Yao stayed in the team regularly altering his role. His last tournament with LGD was TI5, where he placed third. After The International Yao became a substitute for the time of the Major event and did not leave the team. However, during the reshuffle in March 2016 Yao had to do that. He joined the updated CDEC Gaming line-up. His signature heroes are Clockwerk, Invoker and Ember Spirit.
Participation in teams
Team

Winners Draws Losers
Awards
Place

Tournament

Prize

Prize fund
See also